Company profile of Dental Works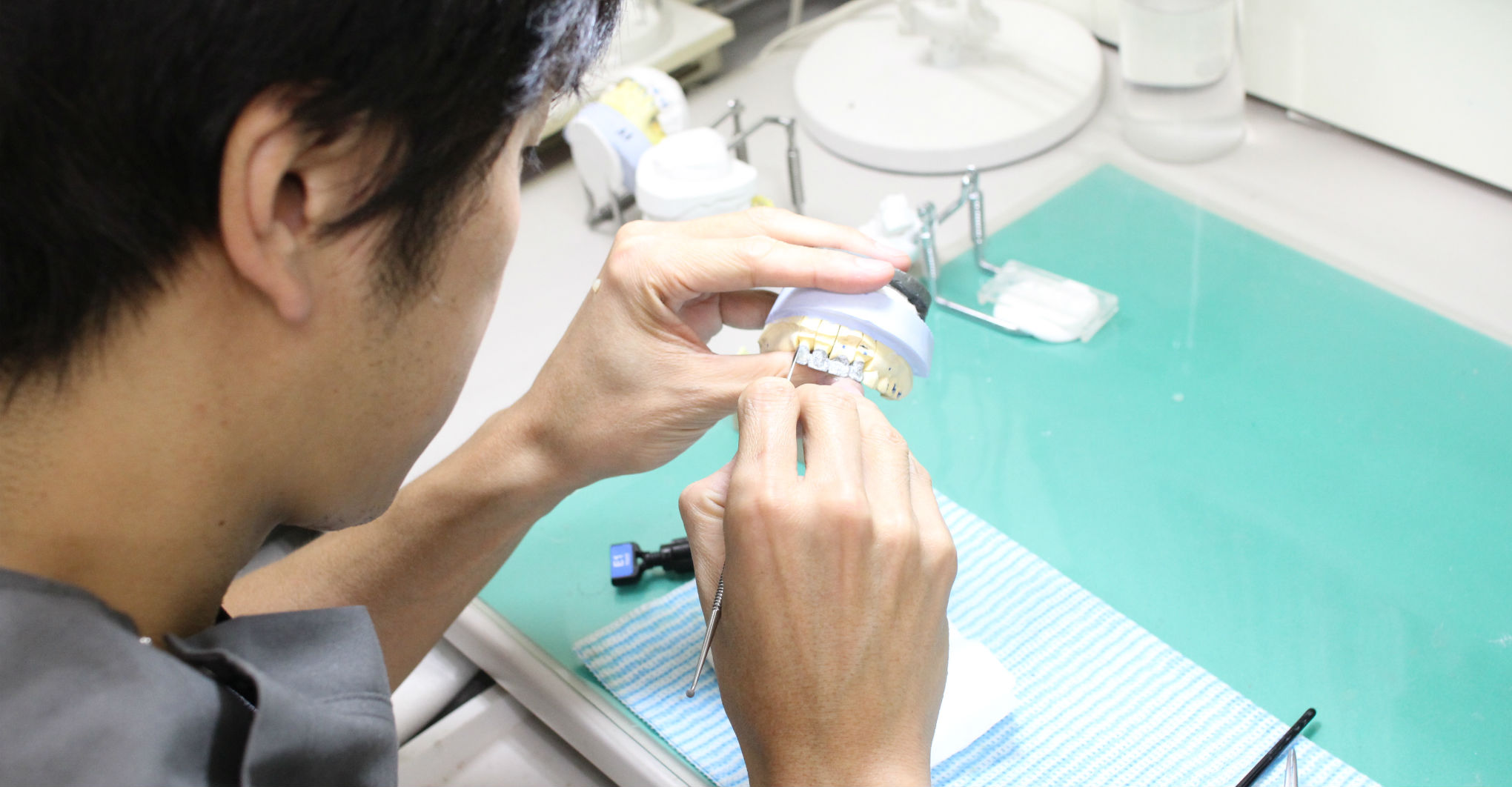 The following are the summary and information on specified commercial transactions of "Dental Works," a dental laboratory located in Yokohama City, Kanagawa. Please see this page before ordering dental appliances. We place importance on relationship and communication with dentists and their patients in order to make high-quality dental appliances. Please feel free to inquire if there is anything unclear.
Summary of Dental Works
| | |
| --- | --- |
| Company name | Dental Works Ltd. |
| Location | 2F/4F, 2-79, Hanasakicho, Nakaku, Yokohama City, Kanagawa, 231-0063,JAPAN |
| TEL | +8145-242-4020 |
| FAX | +8145-242-4018 |
| Representative | Yutaka Tada |
| Established in | 1978 |
| Description of business | Production and distribution of dental appliances |
| Products we offer | Insurance, private expenses, dentures with base, crowns, bridges, porcelain, hybrid, CAD/CAM, e.max |
| Bank of account | Mizuho Bank, The Bank of Yokohama, The Yokohama Shinkin Bank, The Johnan Shinkin Bank, Kanagawaken Shikaishi Shinyokumiai |
Specified commercial transactions
| | |
| --- | --- |
| How to receive orders | We receive orders through Inquiry Form |
| How to make payment | Payment after delivery. |
| Shipping charge, etc. | Shipping fees will be paid by the shipper. |
| Deadline of payment | Please pay the product price to the delivery person. If you are not able to receive the product due to absence, etc., the product will be stored up to one week. |
| Returns/exchange | We do not accept returns due to personal preference. In case of defective products, please contact us within seven days after you receive the products. Send the defective products to us freight collect and then we will exchange the product or refund the product cost. |
Flow from order to delivery
1 Contact us

Please feel free to inquire through the Inquiry form or by phone (+81 45 242 4020). We will send the price list and instruction forms to you when your dental clinic is located outside our collection and delivery area.

2 Production of dental appliances

Then, please send your models and instruction forms by regular collection and delivery or by delivery service. After we receive the parcel, we produce products pursuant to the instruction form. It takes approx. seven business days after the arrival of the parcel. As the number of days for production differs depending on products, please contact us beforehand.

※Shipping fees will be paid by the shipper.

3 Delivery of products

For orders from overseas, we send our products to the designated place of delivery.
(Shipping fees will be paid by us.)

4 Billing

After the delivery, we will bill you for the products. Please feel free to consult with us about payment methods.
Dental appliances we offer (dentures)
"Dental Works," a dental laboratory located in Yokohama City, Kanagawa offers precise dentures (false teeth) tailored to each patient. At Dental Works, one dental technician takes responsibility for one product throughout the whole process under strict quality management to create most suitable dentures for each patient.
Not a few patients believe that false teeth easily fall out, chewing with false teeth is difficult and wearing false teeth is painful. However, we can create and offer dentures which "do not easily fall out," "ensure thorough chewing" and "do not cause pain" by considering precise occlusion. This page introduces dentures we offer.
General acrylic resin base dentures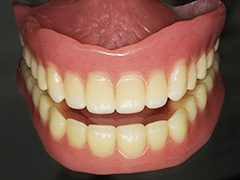 The most common dentures whose base is made of resin. Since these dentures are covered by insurance, self-pay burden can be reduced. In addition, they have less smell and irritation and they are easy to adjust/repair. These are the advantages of acrylic resin base dentures.
On the other hand, these dentures have disadvantage that users of them cannot fully taste foods since resin is poor in transferring heat. Furthermore, to improve strength, the base of dentures should be larger and thicker, which may cause unpleasantness or pain while wearing them. Other disadvantages of acrylic resin base dentures are that the surface of them tends to scar and becomes stained easily.
Non-clasp dentures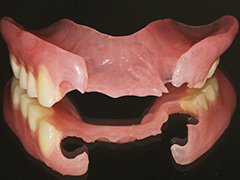 Partial dentures without clasps. The best feature of these dentures is that they have natural finish and it is hard to differentiate them from natural teeth since they are made of resin whose color is similar to gums. They are recommendable for patients who are conscious about "appearance."
The advantages of these dentures are that resin perfectly fitting onto gums causes less unpleasantness, prevents food from getting stuck in dentures, has less smell, etc.
Metal base dentures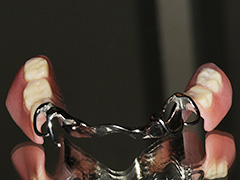 Dentures whose base is made of metal. These dentures are strong, not fragile and thinner than dentures using resin, which causes less unpleasantness. Since metal easily transfers heat, users can enjoy hot food and drink.
We handle three types of metal bases. The following are characteristics of these metal bases:
Gold (platinum gold)
This material is easy to work. In addition, it does not become eroded in the mouth and does not change color. The material is soft on gums and teeth although it is metal. The material is recommendable for reliable dentures to be used for longer time since it hardly deteriorates over time.
Cobalt Chrome
This material is cobalt-chromium alloy used most commonly for metal base dentures. The material has both high intensity and flexibility and is less expensive than gold (platinum gold). Being easy to work and easily transferring heat, it can also be used for partial dentures.
Titanium
This metal is light and strong. Not easily getting rusted, it can be used safely over a long duration. Having high biocompatibility, this material is used for artificial bones, joints and dental roots (implant) with less frequencies of metal allergy. The lightness of this material is suitable for dentures of the upper jaw in particular.
Sleep Splint (for treatment of apnea syndrome)
The sleep splint is an appliance for treatment to wear while sleeping. The appliance prevents occlusion of the upper airway by keeping the lower jaw projecting. The only thing the user has to do is to wear the appliance in the mouth while sleeping, so it is easy to start treatment right away.
Splint (Hard/Soft)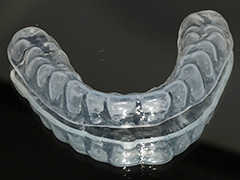 The splint is used for treatment of temporomandibular joint disorder, occlusal force distribution and treatment of jaws. We offer two types of soft and hard splints.
Dental appliances we offer (prosthetic restoratio)
Of dental appliances that "Dental Works," a dental laboratory located in Yokohama City, Kanagawa deals with, prosthetic restorations are introduced in this page. Regardless of insurance or private expenses, we create products with the greatest care in order to respond to requests of dentists.
Porcelain (ceramic)
Porcelain means pottery burnt in a firing furnace. This is also called ceramic. Having whiteness and transparency close to natural teeth, porcelain is recommendable for patients who pursue dental appliances with high level of aesthetic aspects.
e-max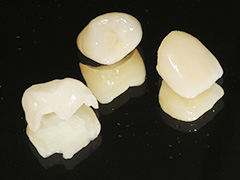 This is all ceramic material whose main component is lithium disilicate glass. The characteristic of this material is beautiful appearance (transparency and natural whiteness). The use of this material realizes dental appliances that surely satisfy patients. The material has an abrasive property close to natural teeth. It can be widely used for layering, crowns, inlays, etc.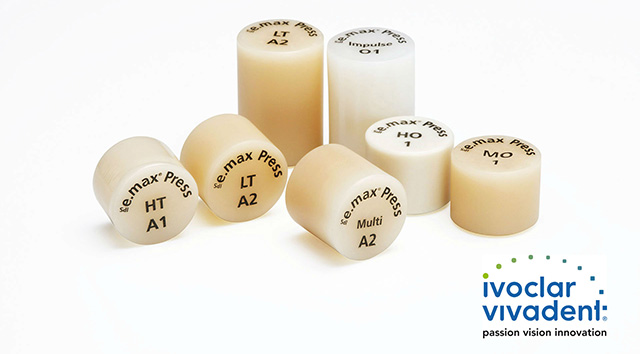 Zirconia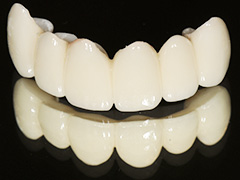 Of all-ceramic materials, zirconia is especially light and strong. The appeal of this material is its natural color which is rarely different from natural teeth, durability and safety. We use zirconia for the inside of ceramic crowns and the base of implant. We also handle full-zirconia crowns that are made of zirconia only.
Metal Bond (Porcelain-fused-to-metal crowns)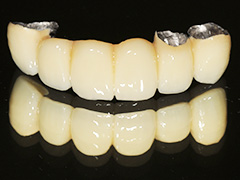 This is a crown made of porcelain which is fused to a metal substructure. Having high intensity, these crowns can be used for all sites including back teeth. Types of metal can be freely selected from precious metals, semi precious metal, cobalt, etc. according to budgets and conditions of patients. We will also explain metal components.
Hybrid ceramic
This material is the mixture of ceramic and resin. Since this is more flexible than porcelain, burden on the opposite tooth that contacts with this material while chewing can be reduced. This material is less likely to get discolored compared to resin and has a high level of aesthetic aspects. However, the material is inferior to porcelain in terms of beautiful appearance.
Estenia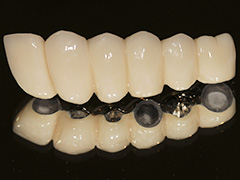 Estenia is a hybrid ceramic inlay that realizes natural color and polish equivalent to natural teeth. It has the same degree of hardness as that of natural teeth. Being excellent in intensity and durability, this material can be used for back teeth, etc. to which big force is applied for long time.
CAD/CAM Crown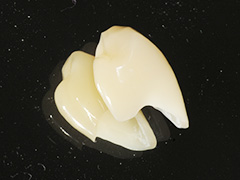 Crowns cut out of hybrid ceramic block using a machine. Dental appliances are designed based on data of scanned impression of teeth input in a computer and precise crowns are created using a milling machine. The intensity and durability of these crowns are superior to those of resin crown.
Resin
This is dental plastic material. Since this material is covered by insurance, cost burden of patients can be reduced. The material has disadvantage of being likely to get stained (discolored) and easily become worn over the long term.
Hard resin facing crown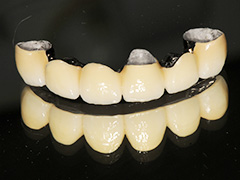 Metal covered by insurance is used for the inside of teeth and plastic covered by insurance is used to cover the surface of the teeth. Advantages of these crowns are that they are less expensive because of coverage and have high intensity. However, these crowns lack transparency and get stained with age.